'Organisatrice' regulates your operational business so that your business activity is no longer 'bogged down' on paper. Your real business activity with your essential resources is represented by 'Organisatrice' with little interactive effort. Especially for companies in development this standard software is a basic structuring aid. Organisatrice' represents the functional logic of your company and forces your employees to behave logically from an administrative point of view.
This technically mature solution supports you reliably without restricting you in your entrepreneurial activities. Continuity, stability and permanent availability characterize this organizational system. This information system does not know sick leave or overload.
'Organisatrice' brings a technical stability to your company, which at the same time balances the entrepreneurial and human burdens of your company in the long term.
'Organisatrice' understands how to disentangle the administrative complexity of a company in such a way that it becomes simpler again for each collaborator.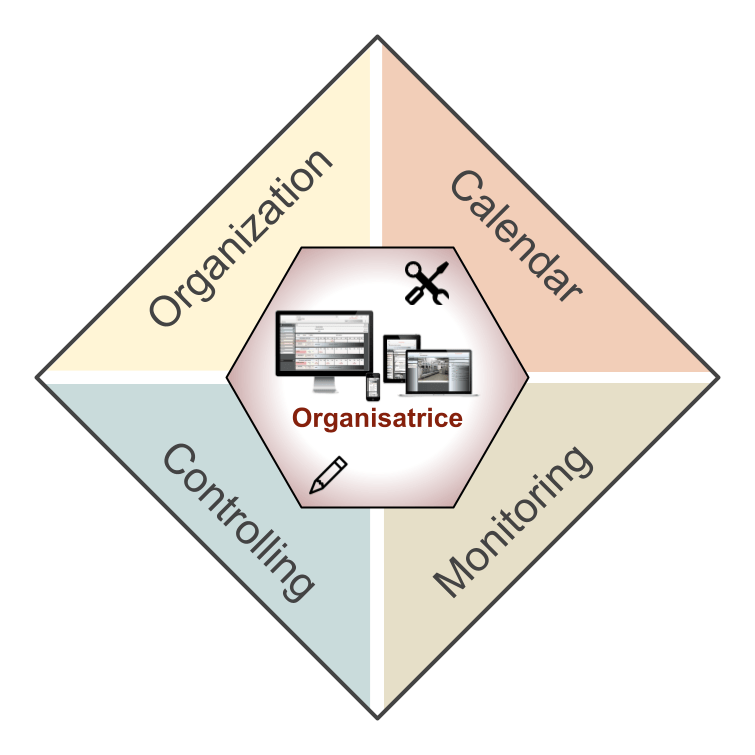 The actual operational structuring maintains the "hierarchical framework" in the background, while the process organization ensures that your orders are processed efficiently in day-to-day business.
Your entries in the agenda easy to read for everyone thanks to linking with the whole organizational structure. This offers you an unimagined comfort of use and flexibility in the hectic everyday life. The executing employee can thus easily and quickly guide himself through the week.
In this respect, monitoring does not regulate the time components of operational planning, but rather the responsibilities regarding the administration and execution of projects, subscriptions, orders and offers.
This is classically the invoicing, the payroll accounting, the acquisition and last but not least the reception with the telephone information.
'Organisatrice' has been designed from the beginning as standard software and is therefore characterized by its unique stability.
You have nothing to do with the actual technical operation of the software, but can use it without installation directly via a protected access in your internet browser.
'Organisatrice' ist von Beginn weg als Standard-Software konzipiert worden und zeichnet sich deswegen durch seine einzigartige Stabilität aus.
Sie haben mit dem eigentlichen technischen Betrieb der Software nichts zu tun, sondern können diese ohne Installation direkt über einen geschützten Zugang in Ihrem Internet-Browser nutzen.
SaaS - Dienstleistung
Software as a Service (=SaaS)
Server betriebene Applikation
ihr Zugang über Ihren Standard Browser