'Organisatrice' provides you with structural planning layers in the background that give you the respective job context. Thereby you 'drag' an appointment directly into the agenda and give it a precise time frame.
Any kind of assignment is thus quickly fixed in the graphical agenda with a targeted 'drag'n'drop'.
This allows you to balance the high reactivity of unforeseen events with long-term structured assignments, such as the annually planned maintenance work.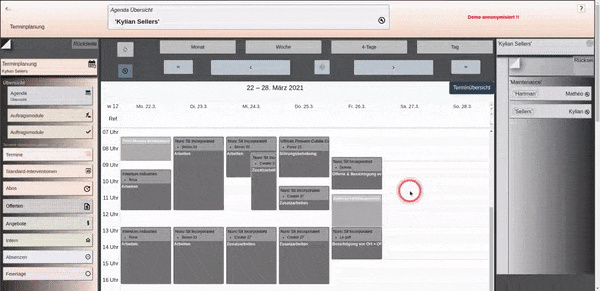 Organize the schedule
long-term structured scheduling in the background

spontaneous action
annual maintenance work
internal administrative time blocks
repetitive assembly blocks
planned absences

selective planning levels, where you have created a fully correlated entry within a 'drag'n'drop' ...

without text input
with full order context
Agenda
simple user interface
full flexibility
drag'n'drop
structured assignments in the respective order context
spontaneous entries